I've already written a few posts about Inform 7: it's a powerful tool for creating interactive fiction that has a very low cost to entry. But, it's also very complex and DOES have a learning curve. Yes, you can make a playable game by compiling the single line of source text: "The Kitchen is a room;" it would be a boring game with one room and nothing to do, but it would be a game. Inform comes with great documentation that's pretty friendly, but still kind of hard to plow through.  Enter Aaron Reed from stage left: deus ex ludico!
Aaron Reed is an accomplished IF author. You can check out his website here. He's added several titles to the IF canon, and written some extensions for Inform 7. He also appears in "Get Lamp" by Jason Scott (see previous post). But, for me, Reed's great contribution to IF is writing "Creating Interactive Fiction for Inform 7". This book is completely amazing.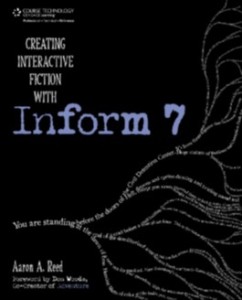 Reed assumes that his audience are pure beginners and may not know what IF is, let alone Inform 7. He starts right from the beginning and gives the reader an objective: "okay, we're going to write a game from scratch using Inform 7; you're going to see how it works from beginning principles to increasingly complex ideas and concepts and I'm going to provide you with best practices along the way." The game is called "Sand-Dancer" and tells the story of a protagonist on a voyage of self-discovery through a landscape of Native American inspired myth. I should point out that, being Native American myself, it's always mildly weird when authors try to use "Native American" tropes. "Native American" is a really vague term that encompasses so many distinct peoples, languages, and cultures. But that's a screed for a different day, and I haven't found the tropes here offensive; in fact, I think they are very well handled. The story itself deals with very real problems I've seen on reservations first hand.
At this point, I'm 148 pages in and have just gotten to the good part where he gets into puzzle construction and allowing the player to really interact with the world. I'm totally hooked. If you are trying to learn Inform 7, I can't recommend this book enough. Here's where you can get it on Amazon: Link. If you'd like to play some of Mr. Reed's games here's a bunch of them on the IFDB: Link. You will need an interpreter, of course.